Park MinYoung is DukMi, she is the fansite master of Cha SiAn (acted by ONE) part of the group White Ocean (acted by IN2IT's HyunUk, InHo, InPyo & JiAhn). Many viewers who are fans too have been relating to her fangirling. The drama is popular in the international K-Drama and K-Pop community.
On an online community, a former fansite master and other fans on Twitter pointed out 5 points that show some inaccuracy in the drama and maybe a lack a research from the drama's production team/writer. They mentioned that these 5 points do not reflect the reality of idol fansite master based on their experience.
1- Top Fansite Master Tweeter Follower Numbers Are Inaccurate
Sindy acted by Kim BoRa is a top fansite master and in the drama, she has 14K followers. This is a too small number.
The former fansite master gave the example of @iridescent_boy one fansite master of EXO's SeHun that has more than 1.1M. Other examples could be BTS JungKook's fansite @JUNGKOOKcokr with more than 1.9M, BLACKPINK Rose's fansite @firstlove_rose has more than 97.7K, and much other example.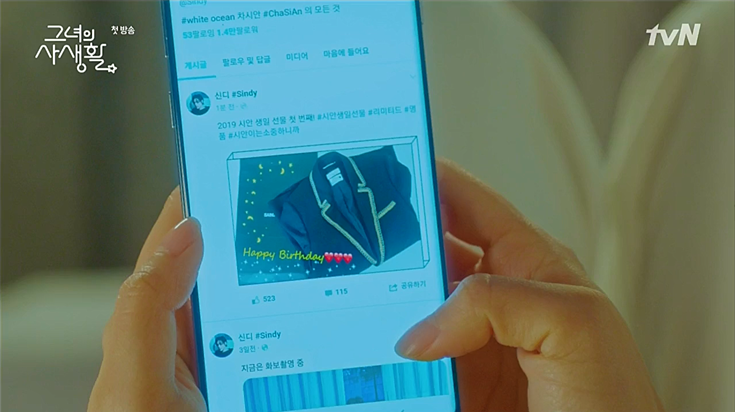 2- Her House is Too Clean
According to the former fansite master, Park MinYoung's house in the drama is way too clean. A real fansite master would have way more equipment and goods scattered in her house. It would have more delivery boxes on the floor. A fansite master would be too busy and tired to clean.
3- Camera And Airport Issue
At the scene of when ONE arrived at the airport and Park MinYoung was waiting for him. The former fansite master notes that the scene shown on screen is not the one that would have happened through the camera. A professional photographer would know that with this camera and lens it is impossible to have such a clear picture at once.
Second, the former fansite master mentioned that there is no way that the idol comes out alone, fans and fansite masters are always following on the back.
Third, it was also mentioned that the camera used by Kim BoRa is not realistic of the one used nowadays.
4- Who Is Using Blog?
If you have a twitter account, you will most probably know that idol fangirling/fanboying is mostly done on Twitter. Fansite masters are also on Twitter. However, Park MinYoung's fansite master is a blog. The former fansite master questioned the accuracy of this. In the past, fansite master used Twitter to upload previews then posted the pictures on this blog.
5- Her Life Is Too Well-Balanced and Pretty
The fansite then shared her experience and mentioned that Park MinYoung's seems to be living a well-balanced life who is not too tiring.
Her/his life as a fansite master was not as "pretty" like this. To be a top fansite master, the person has to run to all the schedule and wake up during the night to see the idol in the early morning. Afterward, they start to work and sometimes you have to use your holidays. Also when a fansite starts to sell goods or others, it is very tiring as they have to fight with the company producing the goods and it takes time to check the deposit, pack and ship them.