1. White Valentine (1999)
The movie is about Jung Min and Hyun Jun's relationship.
When Jung Min was 20 years old, a man in his 30s with sad eyes moved to her village. Every night, he wrote to the dead wife he loved and asked for the pigeons to take him away.
He sent letters to the sky, knowing he would never receive a reply. Suddenly one day, he received a letter.
The letter seemed to express someone's loneliness and sadness. And then one day, they met by chance
2. Love 911 (2012)
Mi-Soo (Han Hyo-Joo) is a doctor with a fiery spirit. Unfortunately, her fiery spirit gets the best of her one day at work. Mi-Soo fails to properly diagnosis an ill woman, after she sees the ill woman's husband, whom she assumes to be an abusive thug. Because of Mi-Soo's failure to diagnose the woman's illness, the woman is now hospitalized and near death. Her husband sues the hospital and Mi-Soo is advised to find a character witness.Kang-Il (Ko Soo) is a dedicated firefighter, who doesn't blink when it comes to saving someone else's life. Emotionally, Kang-Il still carries heavy grief over the death of his own wife. Outside of work, Kang-Il rarely socializes with others. Firefighter Kang-Il was also at the hospital when the wife, who was misdiagnosed by Mi-Soo, became gravely ill. His boss ordered Kang-Il to follow the husband and to make sure he doesn't do anything rash. The husband eventually confronts Kang-Il and assaults him.Later, Mi-Soo learns of the incident between firefighter Kang-Il and the husband. She concocts a plan to cozy up to the firefighter, in hopes of enlisting him in her legal defense. Little does she know, she isn't dealing with an ordinary fellow and she just may have found her true love.
3. Unforgettable (2016)
When a letter and cassette tape from 23 years ago show up at a radio station, the radio DJ and his old friends reminisce on the bittersweet summer they last spent together as kids. Every summer, Soo Ok patiently waits for her friends Beom Sil, San Dol, Gae Deok, and Gil Ja to arrive back to their home town island. This summer is filled with fun, romance, and tragedy.
4. On Your Wedding Day (2018)
Do you remember your first love? This is the story of Woo Yeon, a man who sees his only love as Seung Hee, a girl who believes in falling in love in 3 seconds. It portrays the hardships of first love, spanning 10 years as they mature from children into adults.
Woo Yeon was a high school student who hated studying and spent his days getting into fights. His life appears to be going nowhere until he meets a new transfer student named Seung Hee. He falls in love with her at first sight, though she does not appear to reciprocate. Although Seung Hee doesn't seem interested in Woo Yeon, she grows annoyed at the countless male admirers, and they both agree to pretend to be dating, under the condition that Woo Yeon will stop fighting. He promises, and over time their relationship that was once fake, begins to develop into real love.
However one day, Seung Hee contacts Woo Yeon, telling him to take care. She then leaves town, leaving him heartbroken. He however continues in life, going on to finish high school and find a career. His life seems to be improving, until some time later, he receives a wedding invitation from none other than her, his first love.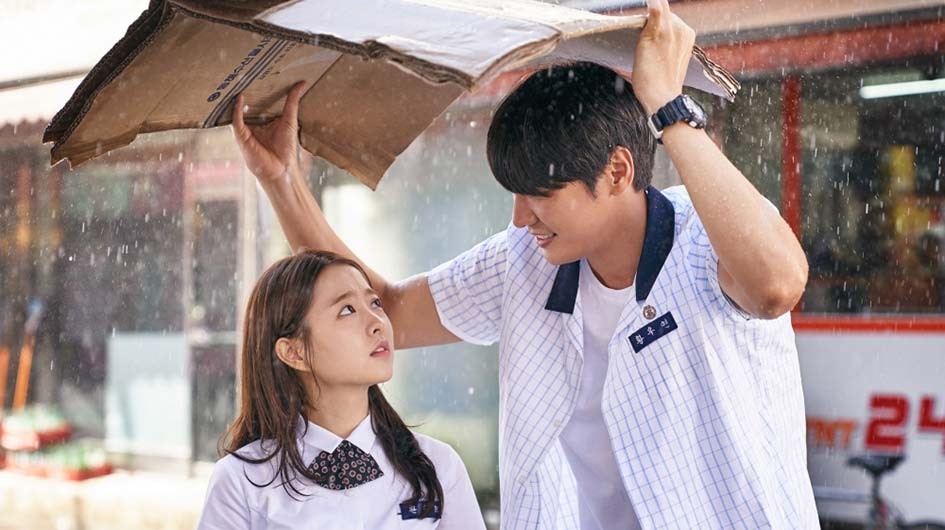 5. Be With You (2018)
Soo Ah, before passing away makes an unbelievable promise to her husband, Woo Jin, to return one year later on a rainy day. Miraculously, she keeps the promise and reappears before her husband and son but all her memories have disappeared. Tragically, the relief at their reunion is short-lived, because it turns out that Soo Ah has to leave her family once again.