On February 18, Korean fans were once again abuzz with the latest picture of Kim Woo Bin. The actor looked happy, smiling as he was ready for a new journey.
"God will bless those who live strong," Kim Woo Bin once said. Perhaps, by the courage, optimism over the past time, the actor has cured cancer. Currently, Kim Woo Bin is being expected by fans to re-appear on screen
---
1. Acting career
In May 2017, fans in Korea and across Asia were surprised by the news that Kim Woo Bin had throat cancer. At that time, the actor was only 28 years old, the disease became an obstacle for his career. At that time, Kim Woo Bin was forced to stop all his activities.
Before his illness, Kim Woo Bin's career was one of Korea's top. The actor born in 1989 started his career as a model. Thanks to his handsome face and impressive height, he is charming with his acting career through his debut drama White Christmas (2011). In the following years, Woo Bin continued to prove himself through many other popular Korean films such as A Gentlemans Dignity, School 2013 ...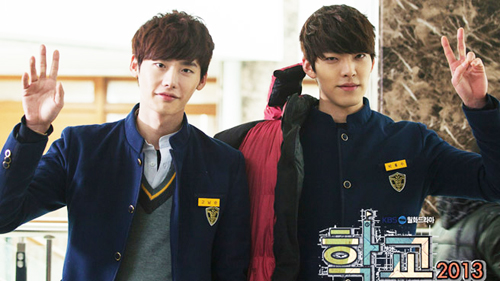 Lee Jong Suk and Kim Woo Bin in "Shool 2013"
In particular, School 2013 is the work that sets the first milestone for the actor with a young audience. At that time, Kim Woo Bin - Lee Jong Suk created a positive effect, causing the rating to rise unexpectedly. The film earned Kim Woo Bin the first nominations and prestigious awards of his career, thus winning the "Best New Actor" award at the APAN Star Awards.
However, it was not until the work of "The Heirs" (2013) that Kim Woo Bin's popularity was really strong. Besides Lee Min Ho - Park Shin Hye, Kim Woo Bin's male lead Choi Young Do left a deep impression. In the film, he still holds the insolent image, cold but not boring.
Lee Min Ho and Kim Woo Bin in "The Heirs"
Kim Woo Bin started working on his first film projects with "Friend: The Great Legacy". Thereby, the young actor is working with Yu Oh Seong, Joo Jin Moo ... As a member of a gang, Kim Woo Bin received many compliments from experts in the profession.
In the following years, Kim Woo Bin continued to participate in both film and television, with diverse roles and different personalities. In particular, in 2017, Woo Bin participated in the action movie - crime "Master" that reached the $ 50 million mark at the box office. In the movie, although he played the role of two actors Lee Byung Hun and Kang Dong Won, but thanks to his talent, Kim Woo Bin was not inferior. This is also his last project before discovering cancer.
Master
---
2. The battle with cancer
Kim Woo Bin kept silent for a long time. Knowing he had satisfactory treatment results, the new star wrote a long letter to the fans. He shared that he suffered from 35 radiation treatments, 3 chemotherapy sessions and lost a lot of weight.


"How hesitant, not knowing how to put pen down to write the first sentence of this letter. I should have informed this news earlier to everyone, but due to my busy treatment, it has been over 7 months. For your encouragement and prayers, I have gained the strength to overcome cancer, "the actor expressed in his letter.


He fought hard and overcome it. "Kim Woo Bin is in good health after cancer treatment", "Kim Woo Bin regains his physique" ... is extremely positive information, proving the courage to fight the disease of Kim Woo Bin.


Also since the media reported on the good signs for Kim Woo Bin's health, many fans hoped for the actor's screen re-appearance.
In the latest photo, the public expressed their expectations, as well as sent their best wishes to the actor. At the Blue Dragon Awards 2019, Kim Woo Bin marked his return to the entertainment industry after more than 2 years of cancer treatment. He held a fan meeting last year in a full body and a fresh demeanor.
---
3. Adorable love for Shin Min Ah
Although on the screen, Kim Woo Bin is a tough, cold person but his love for Shin Min Ah is extremely warm. To date, Kim Woo Bin and Shin Min Ah's relationship has lasted for more than four years.
Kim Woo Bin and Shin Min Ah admitted their love in July 2015. Since then, the actress has always been devoted, happy and sad with Kim Woo Bin. By the time Kim Woo Bin treated cancer, she was always there to encourage and help him overcome pain and fatigue.
A close friend of the two shared, during the difficult treatment, Min Ah was always on duty day and night, without complaining, "She always takes care of Woo Bin without caring about everything. Their love is like a romance novel. It has pain, experience, sweetness and bitterness. "
Now, Kim Woo Bin is returning to his own career path. Not only is he admired for having a beautiful relationship, Woo Bin is also a desirable face of Korean movies
Couple Kim Woo Bin and Shin Min Ah