More details about the divorce couple Song-Song: Song Joong Ki gave up the right to share property because of Song Hye Kyo
Mini EastDay recently published an article revealing the divorce between Song Joong Ki and Song Hye Kyo. Although the couple has been divorcing for more than half a year, the details of this paper-filled marriage of the press still makes the public excited.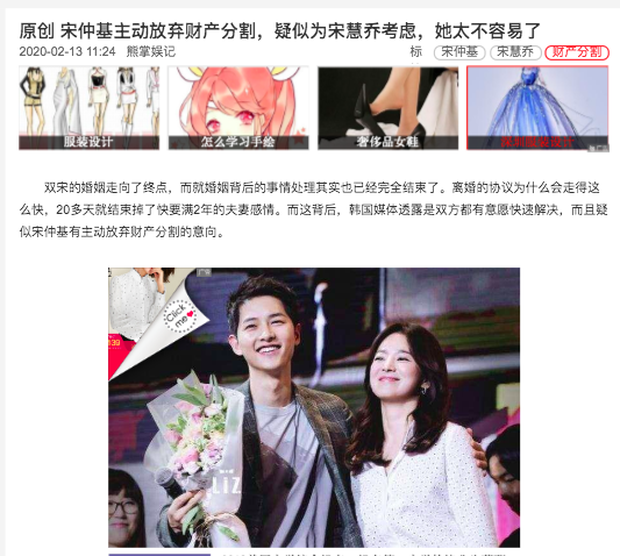 The title of the article that Mini EastDay posted has the content: "Song Joong Ki actively gave up the division of property, doubted because Song Hye Kyo thought that he should make such a decision". From a Korean source, the two sides agreed to resolve everything quickly, and doubted Song Joong Ki actively gave up competing for assets.
In fact, everyone witnessed the coldness of Song Joong Ki towards Song Hye Kyo in the divorce incident. Song Joong Ki was the first side through the lawyer to inform Song Hye Kyo that the two were divorced. In the eyes of netizens, Song Hye Kyo is the one who broke up, therefore, the public opinion focused on the actress, and Song Joong Ki was considered as a lover.
According to information from Korean media, Song Joong Ki actually took the initiative in abandoning the division of assets. In other words, both husband and wife divorced because of conflicts and disagreements over the division of assets. Song Joong Ki's friends thought that the actor should not fight for property because of his wife. On the female side, making money and receiving support is also understandable and concurred by the public.
As for Song Hye Kyo, her life has been under a lot of pressure since the divorce rumors. Song Joong Ki asked not to proceed with the proceedings and the two sides reached a consensus after the divorce.