Nine Tailed Fox (2004)
While infiltrating an illegal organ trafficking line, detective Min Woo suddenly revealed his cover and fell into a dangerous situation. Rescued by Gumiho Shin Yeon (Kim Tae Hee), he quickly falls in love with her. However, their relationship was strongly opposed and threatened by the gumiho clan.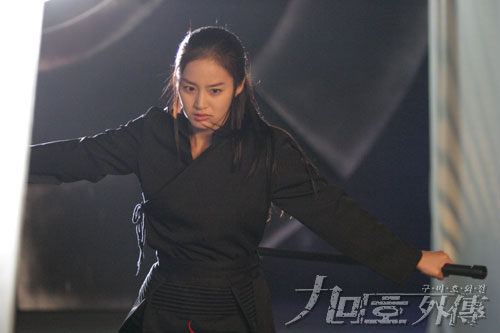 The Fox Family (2006)
Hiding the shadow of a circus, the nine-tailed fox family aspires to be human through the ritual of human sacrifice, gouging out the guts to eat on the night of the lunar eclipse, the event only takes place once every 1000 years. Things are going well, the daughter (Park Shi Yeon) falls in love with Gi Dong - the police are always suspicious of this family.
Tale of The Fox's Child (2010)
The movie revolves around Yeon Yi (Kim Yoo Jung), a child with mixed blood between humans and nine-tailed fox. In order to protect her daughter, mother San Daek (Han Eun Jung) took her to hide in a remote village. But at the age of 10, the bloody instinct of the fox where Yeon Yi suddenly began to rise, forced her to learn to hide them to avoid being discovered by her neighbors.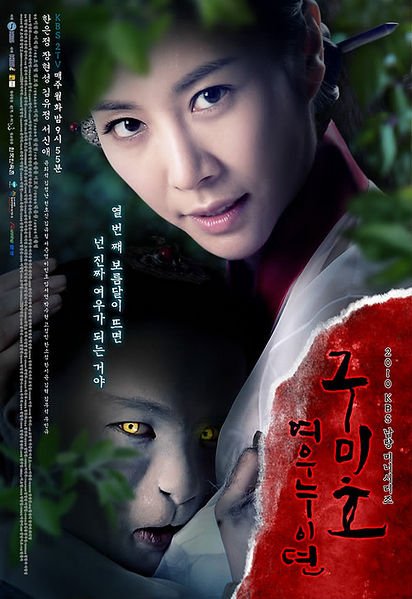 My Girlfriend Is A Gumiho (2010)
One day, the young man Tae Woong (Lee Seung Gi) accidentally free the beautiful nine-tailed fox Mi Ho (Shin Min A) from the sealing painting. In order to be a true human, she immediately asked him to help him gather aura. In return, she will bestow on Tae Woong with extraordinary physical condition to satisfy her dream of becoming a famous action actress.
Tale of the Nine-Tailed (2020)
Playing a role as the guardian god, Lee Yeon (Lee Dong Wook) always supervises and punishes ferocious monsters, daring to upset human life for hundreds of years. The difference is that, his eternal enemy is his half-brother and half-blood of Lee Rang (Kim Bum).
Not only confronting her rebellious brother, Lee Yeon also has to avoid pursuing from the south Ji A (Jo Bo Ah), the producer of a TV program specializing in exploring supernatural phenomena.